Thank you for visiting our website.
Great children can only be influenced by great minds and everyone who joins us has the opportunity to live out their potential and leave a great, positive impartation of knowledge, life skills and wisdom to our children.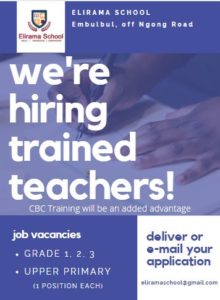 If you would like to join our team, the current vacancies available are:
Grade 1 Teacher (1 position)
Grade 2 Teacher (1 position)
Grade 3 Teacher (1 position)
Upper Classes Teacher (1 position)
Job Description:
The job is simply to be a TEACHER.
Competency Desired:
You can
You are
receptive
cheerful
dependable
creative
smart
Elirama School is an equal opportunity employer providing a relational working environment.
To join us in 2020, please apply here